OASE Aquamax ECO Twin 30000
Top product characteristics
Flexible switching of the flow rate
On/Off adjustable conveniently via remote control
Patented frost protection to -20 °C
Product details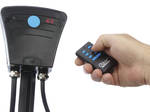 Controller with LED display
The motors can be separately switched on or off, or can be adjusted together via wireless remote control. Digital display of the respective capacity level.
»Intelligent « flap
The patented »intelligent « flap mechanism in the interior of the AquaMax Eco Twin guarantees optimal output even when only one pump is used.
Recommendation
Depending on the debris in the pond, you can decide from which point the water should be delivered into the filter. You can regulate or switch off the pond floor filtration by remote control, and concentrate only on the surface or pond edge. The pump is so effective.
Featured